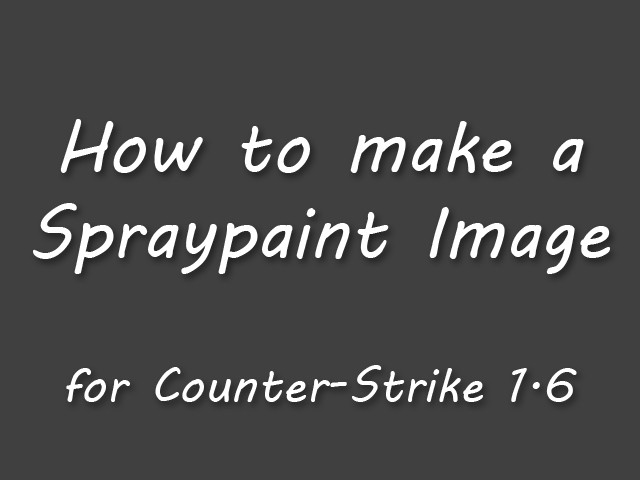 Hi everybody,
This is my first tutorial here and I'd like to tell you how to make a Spraypaint Image.
So, this is 'How to make a Spraypaint Image for Counter-Strike 1.6'
Necessary software:
» Adobe Photoshop
Step #1
Run Photoshop.exe
Step #2
Create a document (CTRL + N or File > New…) with these settings:
Step #3
Now you are ready to paint.
There is one important thing! Color mode was set to 'Grayscale'. It means you can use only 2 major colors: black and white. You can also use gray, light gray, dark gray etc.
What's more, Black
(RGB: 0 0 0, HEX: #000000)
will be transparent when you spray your image in CS, and White
(RGB: 255 255 255, HEX: #FFFFFF)
, on the opposite, will be solid (it will be replaced with the selected colour. E.g. orange, yellow, blue, light blue, green, red, brown, light gray or dark gray). Gray
(RGB: 128 128 128, HEX: #808080)
will be 50% solid, Dark Gray
(RGB: 64 64 64, HEX: #404040)
will be 25% solid etc.
To be honest, I was stuck for ideas so here is my example...
Looks awesome, doesn't it? :D
Well, my goal is just to show you the basics so it doesn't matter what image I'm using.
Step #4
This is the last step in Photoshop. Save the image (SHIFT + CTRL + S or File > Save as…) as *.BMP:
With these BMP Options:
Step #5
Move your *.BMP image to 'valve/logos' and run Counter-Strike. Open 'Options', select 'Multiplayer' tab, choose your Spraypaint Image and set the colour:
Test it!
Regards,
s0nought